FC KANSAS CITY REACHES AGREEMENT WITH TWO MORE STAR PLAYERS
Updated: February 7, 2013
Team Adds Veteran Defender and Dynamic Forward
PRAIRIE VILLAGE, KS – FC Kansas City announced today the signing of forward Melissa Henderson and defender Leigh Ann Robinson to the 2013 Inaugural Season Roster.  Both players signed league contracts on February 6th, per league and team policy, terms of the contract are not disclosed.  Henderson and Robinson, along with previously announced signee Jen Buczkowski, represent three of the four Additional Players FC Kansas City has agreed with for the upcoming 2013 season.  They join one of the most talented rosters in the NWSL with U.S. Women's National Team players, Lauren Cheney, Becky Sauerbrunn, and Nicole Barnhart, Canadian National Team players Lauren Sesselmann and Desiree Scott and Mexican National Team players Rene Cuellar and Marylin Diaz.
Jogos casino online,
Melissa Henderson
Position: Forward
Height - 5'8"
College: Notre Dame
Hometown: Garland Texas
Video Highlights of Melissa at Notre Dame
Melissa Henderson comes to Kansas City with a very impressive record of success.  By the time she was a junior in high school at Berkner High School in Richardson, Texas she had already been named a NSCAA youth All-American twice, been a Parade All-American twice and was the first ever junior women's soccer player named the Gatorade National High School Player of the Year.  She has appeared with the U.S. National team at the U-16, U-17, U-20 and U-23 levels and played on four different continents.
She was an immediate star for Notre Dame.  Playing in all 27 games for the Irish in her freshman year, she started 20 games, scored 17 goals and earned the Big East Rookie of the Year and 1st team Freshman All-America honors.  She was only the second freshman to earn the honor of Most Outstanding Offensive Player at the Big East Championship that season and was named to the Big East All-Tournament Team.
In her junior season at Notre Dame she was named the Honda Sports Award recipient and first runner-up for the Hermann Trophy, earning her an ESPY nomination for "Best College Female Athlete".  She ended her collegiate career with four All-Big East Selections and two All-America selections.  She scored 70 goals (24 game winners) and 26 assists and helped the Fighting Irish to their 3rd National Championship in 2010.
Henderson was the number two overall selection in the 2012 WPS draft, however the league suspended operations before the season.  She played four games with the Boston Breakers in the WPSL Elite league last season.
"Melissa is a dynamic scorer and one of the premier young forwards in this country," said FC Kansas City President, Brian Budzinski. "Her pace and finishing skills should have the fans of Kansas City very excited. I know as an organization we are excited to have Melissa and look forward to her being one of the staples on our front line this season."
Henderson has been a winner everywhere she has played and is anxious to do the same in Kansas City, "I'm just blessed and thankful to be in a place where I can be on a great team and help start a new tradition," she said. "Coach Vlatko (Andonovski) and Coach (Huw) Williams preach the kind of soccer I like to play."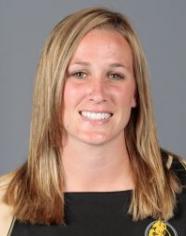 Leigh Ann Robinson
Position: Defender
Height - 5'9"
College: University of San Diego
Hometown: Poway, CA
Leigh Ann Robinson, a native of Poway, CA. was highly recruited out of high school, choosing the University of San Diego over Pepperdine, Cal State Fullerton, Pacific and Arizona State.  She started 17 games her freshman year and played in 75 of the team's 81 games during her career.  She was named second-team All-WCC her sophomore season before being named to the first-team the next two seasons.  Her senior season earned her a fourth-team All-American selection by Soccerbuzz magazine.
She was selected by FC Gold Pride in the Inaugural 2009 WPS Collegiate Draft.  Following the season she was chosen by the Atlanta Beat in the WPS Expansion Draft.  She joined the Philadelphia Independence in 2011, playing in 19 games.  She re-signed with the team following the season, but the WPS suspended operations before the season began.
"I'm super excited about coming to Kansas City," said Robinson. "It's an honor to play on the first team to represent KC.  I have high expectations…my goal is to help bring a championship to the fans."
NWSL Supplemental Draft
The NWSL Supplemental Draft will be held at 11am CST today.  The Supplemental Draft will consist of six rounds and will be held via conference call.
Each of the eight NWSL clubs submitted a list of 8-10 players who will be eligible for the Supplemental Draft. Both domestic and international players are eligible for the Supplemental Draft, but each team is allowed two international players in addition to those that were allocated.
The selection order for the draft was determined by several factors, including the order in which the college draft was conducted and how teams have been impacted by the projected absences of previously allocated national team players for all or part of the inaugural season. FC Kansas City will select sixth in each round.