BECKY SAUERBRUNN WINS NWSL DEFENDER OF THE YEAR
FC Kansas City Sweeps All Four Awards This Week
PRIAIRIE VILLAGE, Kansas (Aug. 21, 2013) –
FC Kansas City defender
Becky Sauerbrunn
was voted the National Women's Soccer League (NWSL) Defender of the Year for the 2013 NWSL season.
Jogos casino online, Sky Blue FC defender Christie Rampone finished second in the voting and FC Kansas City defender Leigh Ann Robinson was third.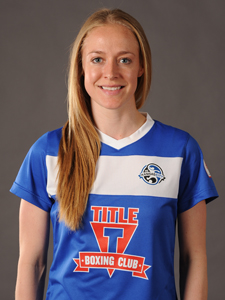 Sauerbrunn, 28, started and played every minute of her 19 appearances to lead FC Kansas City's defense to NWSL-best 11 shutouts and the second best goals against average (1.00) in the league.
"For defenders, this award is more of a reflection of the defensive unit," said Sauerbrunn. "It's too bad that it can only go to one person. Everyone from 'Barnie' (Nicole Barnhart) in goal to the rest of the back line to Des (Scott) and Buzz (Jen Buczcowski) in the midfield contributed. We also have to thank the quality attackers in the league who gave us so much to do."
The St. Louis native, along with Robinson and fellow defenders Lauren Sesselmann, Kristie Mewis, held opponents to the fewest shots on goal (94) in the NWSL – 18 SOG fewer than any other team in the league.
The University of Virginia product played every match during the Blues' league-record 10-game unbeaten run June 23 – Aug. 4.
FC Kansas City will return to action Saturday, Aug. 24 at 1 p.m. CT against Portland Thorns FC at Verizon Wireless Field in Overland Park, Kan. in the semifinals of the 2013 NWSL Playoffs live on FOX Sports 2.
The NWSL awards are voted on by a selection of journalists that cover the league on a consistent basis, club officials and NWSL players.