FC Kansas City 1st Annual Soccer Camp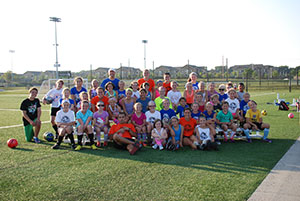 Rockhurst University, July 22-26
Introduction
Our camp staff and players invite you to join us in our 1st annual youth soccer camp.  The camp will combine outstanding technical developmental sessions along with rewarding challenges.  Campers will work hard and will be pushed to "overachieve" from our staff but it will be done in a fun and caring environment.
This camp is for the serious soccer player who wants to have fun but also wants to become a better soccer player.  It will be the ideal preparation for the upcoming season.
Coaching Staff
The camp is directed by our FC Kansas City coaching staff and the daily curriculum will be based around FC Kansas City practices.  FC Kansas City players and coaches will be on hand on a daily basis to help the players in many of the sessions.  Other camp coaches will include area college, club and high school coaches along with collegiate players.
Who Should Attend
The camp is ideal for boys and girls aged 6-14.
Camp Programs
Campers may select one of the following options:
1.  ½ Day Camp 8:30 a.m. to 12:00 p.m.  The main emphasis will be on ball handling technical development
2.  Full Day Camp 8:30am to 4:30pm.  The afternoon session will introduce the tactical side of the game to the players with small sided game situations.
Directions:
Meals
A daily lunch (served at the college cafeteria) will  be provided to all Full day Campers
Tuition
Day Camp: 8:30 a.m. to 4:30 p.m.
1/2 Day: 8:30 a.m. to 12:00 p.m.
What's Included?
Camp Ball
2 x FC Kansas City Camp shirts
Meal Plan for full day campers
FC Kansas City Game ticket
Daily appearances and coaching from FC Kansas City players and coaches
Need More Info
For more information email Huw Williams at hwilliams@fckansascity.com