RECAP: Blues fall to Breakers in Boston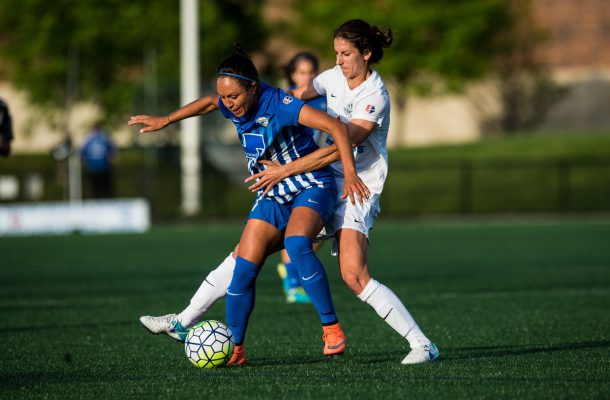 WATERTOWN, Mass. (May 22, 2016) — 
The National Women's Soccer League's final two winless teams met on Sunday with the Boston Breakers edging FC Kansas City for a 1-0 victory at Jordan Field. The two-time defending champions are now 0-4-2 on the season.
Jogos casino online, Centerback Whitney Engen scored the game's lone goal in the 19th minute off a corner kick from Kristie Mewis. It was the Breakers' first goal in five games and helped lift Boston to its first victory under head coach Matt Bear.
The Blues, on the other hand, were held scoreless for the fourth time in six games despite taking 10 shots in the match. They have allowed six goals in that time and Boston had 14 shots on Sunday. Goalkeeper Nicole Barnhart recorded four saves in the match.
The game did mark the first start of New Zealand international Katie Bowen's first start. She was selected by the Blues in the 2016 NWSL College Draft from the University of North Carolina and made her first appearance against the Chicago Red Stars last Friday.
FC Kansas City will return home to host the expansion Orlando Pride at 7:30 p.m. on Saturday. They will be without U.S. Women's National Team players Becky Sauerbrunn and Heather O'Reilly, who were called up for a match ahead of two June matches against Japan. The 2015 FIFA Women's World Cup championship rematch will start on June 2 in Commerce City, Co., with a follow-up on June 5 in Cleveland. Ashlyn Harris and Alex Morgan will represent the Pride.
NWSL Match Report
Match: Boston Breakers vs. FC Kansas City
Date: May 22, 2016
Venue: Jordan Field, Boston, Mass.
Kickoff: 5:30 p.m. CT
Attendance: 3,288
Weather: 62 degrees, sunny
Scoring Summary
1              2              F
BOS        1              0              1
FCKC      0              0              0
BOS – Whitney Engen (Kristie Mewis) 19th minute
Lineups:
BOS: 1-Libby Stout; 8-Julie King, 4-Whitney Engen (captain), 5-Kassey Kallman; 20-Mollie Pathman, 77-McCall Zerboni (10-Louise Schillgard, 56), 26-Angela Salem, 19-Kristie Mewis, 23-Brooke Elby (21-Christen Westphal, 65); 88-Katie Schoepfer (9-Stephanie McCaffrey, 69), 17-Kyah Simon
Subs not used: 2-Jami Kranich, 24-Rachel Wood, 22-Stephanie Verdoia, 3-Elise Krieghoff
Head Coach: Matt Beard 
FCKC: 18-Nicole Barnhart, 21-Katie Bowen, 4-Becky Sauerbrunn, 13-Brittany Taylor, 5-Alex Arlitt, 3-Desiree Scott, 10-Yael Averbuch (15-Erika Tymrak, 78), 7-Mandy Laddish (88-Alexa Newfield, 67), 11-Frances Silva (20-Tiffany McCarty, 46), 9-Heather O'Reilly, 2-Shea Groom
Subs not used: 0-Katelyn Rowland, 17-Amanda Frisbie
Head Coach: Vlatko Andonovski
Stats Summary: BOS / FCKC                                          
Shots: 14 / 10
Shots on Goal: 5 / 4
Saves: 4 / 4
Corner Kicks: 4 / 5
Fouls: 7 / 14
Offside: 0 / 10
Misconduct Summary:
BOS – Whitney Engen (caution) 90th minute
Officials:
Referee: Christopher Spivey
Assistant Referee 1: Jennifer Garner
Assistant Referee 2: Ryan Cook
Fourth Official: Michael Dee