RECAP: Blues bid farewell to Buczkowski with draw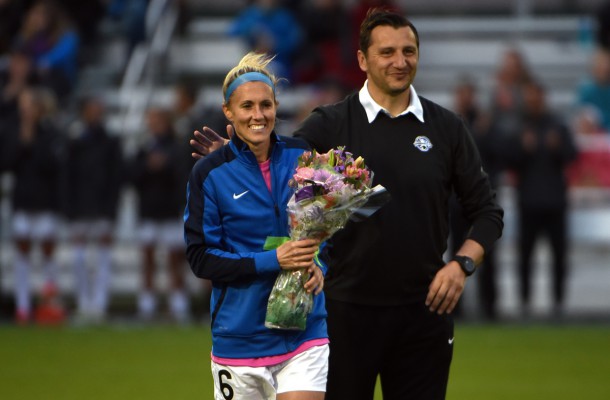 KANSAS CITY (May 13, 2023) — FC Kansas City sent veteran midfielder Jen Buczkowski into retirement with a 0-0 draw against the Chicago Red Stars on a blustery Friday night at Swope Soccer Village.
Blues coach Vlatko Andonovski met Buczkowski on the field before the game with a bouquet as the announcer read off a list of her accomplishments, which includes two National Women's Soccer League titles with the Blues. In her professional career, she has appeared in six championship games and won five of them. She started all 76 regular season games in her NWSL career and played 6,745 out of 6,840 possible minutes.
"I don't think it has quite hit yet because I'm just coming off the game and still excited about that," Buczkowski said. "I'm sure the next couple days as I don't go to practice, it will sink in more."
The night also brought the first career start Alex Arlitt and first minutes of New Zealand National teamer Katie Bowen. Both were selected in the 2023 NWSL College Draft.
FC Kansas City had a flurry of shots in the final 30 minutes of the game that hit the crossbar or were blocked by a diving Alyssa Naeher. The Blues finished with 12 shots and five on goal. Naeher had six saves.
Chicago, and reigning NWSL Player of the Week Christen Press, almost equaled the effort with 11 shots and eight on goal. FC Kansas City's Nicole Barnhart recorded six saves.
With the loss, the Blues fell to 0-3-2 in their title defense. Chicago is now 3-1-1.
SCORING SUMMARY
             1       2      F
FCKC 0      0      0
CRS    0      0      0
STARTERS
FCKC: Barnhart; Sauerbrunn, Averbuch, Arlitt, Taylor, Scott, Silva (McCarty 90'), O'Reilly (O'Reilly 45'), Buczkowski, Laddish (Bowen 83'), Groom
CRS: Naeher; Gilliland, Mautz, Naughton, Short, DiBernardo, Da Costa (Comeau 70'), Johnson, Huerta, Press, Colaprico (Hoy 88').