FC KANSAS CITY ACQUIRES AMY RODRIGUEZ
Updated: November 7, 2013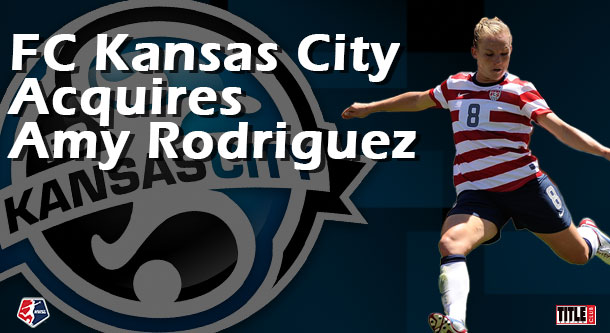 Kristie Mewis Heads To Seattle In Exchange
PRAIRIE VILLAGE, Kan (November 7, 2013) –
FC Kansas City announced Thursday the team has acquired U.S. Women's National Team forward Amy Rodriguez in a trade with Seattle Reign FC. In exchange, Seattle received midfielder Kristie Mewis.
Jogos casino online,
Amy Rodriguez
Age: 26
Height: 5'4"
Position: Forward
One of the Reign's original U.S. allocated players, Rodriguez announced her pregnancy shortly before the inaugural NWLS season and sat out the entire 2013 campaign.
"I was surprised when I heard that Kansas City was interested in me," Rodriguez said about the trade. "I watched them play in Seattle last season and from a soccer standpoint I'm very excited about the prospects. I love the style and strategy they use in their play."
The 26-year-old Lake Forest, Calif. native made her debut with the USWNT as a senior in high school in 2005 and has scored 26 international goals while earning 102 caps, including appearances in the 2008 Beijing Olympics, the 2011 Women's World Cup in Germany and 2012 London Olympics.
An NCAA champion in 2007 with the University of Southern California, Rodriguez missed part of her senior season as a member of the 2008 Olympic team in Beijing, where she served the assist to Carli Lloyd for the gold medal-winning goal against Brazil.
Rodriguez started the first five games of the 2011 Women's World Cup and finished the tournament with four goals and three assists. She returned to the Olympic squad in London 2012 and made four appearances while she earned her second gold medal.
The Boston Breakers drafted Rodriguez as the first overall pick of the 2009 Women's Professional Soccer Draft. In 2010, she was traded to the Philadelphia Independence where she scored 12 goals and had six assists for the season to earn a spot on the WPS Best XI.
Mewis was FC Kansas City's first selection (No. 3 overall) in the 2013 NWSL College Draft. She appeared in 20 matches, starting in all of them. She began the season as an outside midfielder, but found her home in FC Kansas City's backline. She scored the game-winning goal against Portland Thorns FC on Aug. 4 as the Blues became the first team to secure a playoff spot in NWSL history.